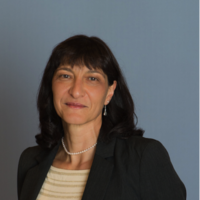 Maria Forsyth
Prof. Deakin Univ.
Burwood - Australia
Biography
Professor Maria Forsyth "FAA" (Fellow Australian Academy of Sciences), is the Director of ARC Industrial Transformation Training Centre in Energy Storage Technologies, StorEnergy, past ARC Laureate fellow and currently an Alfred Deakin Professorial Fellow at Deakin University and an Ikerbasque Visiting Professorial Fellow at University of the Basque Country. She is the Associate Director in the ARC Centre of Excellence in Electromaterials Science (ACES) and Deputy Director of the Institute for Frontier Materials (IFM) at Deakin University in Australia, where she leads the research effort in energy storage and corrosion science. Specifically, her work has focused on understanding the phenomenon of charge transport at metal/electrolyte interfaces and within novel electrolyte materials. Such materials have included a range of novel ionic liquids, polymer electrolytes and plastic crystals. This has provided a basis for understanding the behaviour of such materials, and thus moving towards overcoming the performance limitations, of applications ranging from novel fuel cell designs and battery storage to corrosion prevention technologies.

Professor Forsyth leads collaborative projects in lithium and sodium battery technologies funded through recent Australian Research Council grants and with industries such as Toyota Nth America and Toyota Japan. She is a co-author of over 550 journal and conference publications attracted more than 20000 citations. She has delivered more than 25 invited and plenary talks in the past 5 years. She was one of the team that delivered the ACOLA report "The Role of Energy Storage in Australia's Future Energy Supply Mix" to the Chief Scientist in 2017. Professor Forsyth has served on several editorial boards and is currently senior editor for Journal of Physical Chemistry letters. She is the recipient of the Galileo Galilee award for her contributions to the Polymer Electrolyte and energy storage field and was awarded to The Victorian Prize for Science and Innovation (VESKI) in 2017.
Prof Forsyth's labs are based on the Burwood campus. This is in the South East side of Melbourne, less than an hour from the city.
Research
Professor Maria Forsyth, Chair in Electromaterials and Corrosion Sciences at Deakin University, is the Associate Director of ARC Centre of Excellence for Electromaterials Science. She is also Chair of the ACES Research Training Group, which is developing a variety of different HDR and ECR research training activities.
Prof Forsyth's research focuses on developing an understanding of charge transport at metal/electrolyte interfaces and within electrolyte materials. Such materials have included a range of novel ionic liquids, polymer electrolytes and plastic crystals. Using this understanding, her team collaborates very productively with colleagues within academia, CSIRO, DSTO as well as industry to design new materials and processes to control and optimise these phenomena in two key areas - corrosion (e.g. Corrosion Science 2006, Surface and Coatings Technology, 2007) and electrochemical devices (eg., Nature 1999, Science 2002, Science 2008, Journal of Applied Electrochemistry 2008).
Professor Forsyth's group has also developed a range of unique characterisation approaches including multinuclear, variable temperature pulsed field gradient NMR facilities, with which they investigate ion transport mechanisms in electrolyte materials and surfaces. A recent LIEF grant has enable the establishment of state of the art solid state NMR facilities which is being used to characterise not only electromaterials, but also metal alloys, ceramic nano-materials and polymers. The facility will also enable in-situ imaging of electrochemical and transport processes which occur for example in devices such as batteries and fuel cells in-situ.
Awards
2017: International Society of Electrochemistry (ISE) Fellow
2017: Member of the Advisory Board of Electrochimica Acta Journal for three years
2016: Senior Editor, The Journal of Physical Chemistry, American Chemical Society
2016: Galileo Galilei Award at the International Symposium on Polymer Electrolytes (ISPE-16), Uppsala, Sweden
2015: Deakin University Vice Chancellor Award for Excellence in Research Supervision
2014: Honorary Senior Research Fellow in the School of Metallurgy and Materials in College of Engineering and Physical Sciences. University of Birmingham, United Kingdom (2008-2015)
2013: Corrosion Medal, The Australasian Corrosion Association Inc
2013: Australian Museum Eureka Prizes, Finalist 2013
2012: Alfred Deakin Professor, Deakin University
2011: ARC Australian Laureate Fellow
2009: Vice Chancellor award for Special Commendation Postgraduate supervision
2005: Dean's Award for Excellence in Research, Faculty of Engineering, Monash University
2002: Awarded ARC Australian Professorial Fellowship, 2003-2007
1990-1: Fulbright Postdoctoral Fellowship
1986-9: Commonwealth Postgraduate Scholarship
1985: Masson medal and prize (top Australian chemistry graduate)
Qualifications
PhD, School of Chemistry, Monash University Australia
BSc (Hons) First Class, Monash University Australia